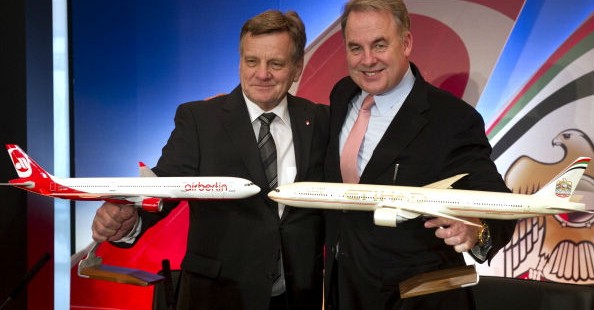 Etihad Airways looks to invest in Alitalia as negotiations continue over commercial terms and is on the verge of a partnership with Air Berlin, the chief executive of the Abu Dhabi airlines said on Monday. Using a twin policy of equity alliances and organic growth to expand its global influence and compete with rivals Emirates and Qatar Airways, the Gulf giant sets its sights on investing in Alitalia. Etihad failed to meet their one-month deadline after starting in February that it would make a decision concerning a possible investment in Alitalia
Kept afloat by a government-engineered 500 million euro ($686 million) rescue package last year, Alitalia requires a wealthy partner to reinvigorate its flight network or else may be forced to ground its planes. A move towards formal talks on the potential investment between the airlines is expected soon, according to Reuters. James Hogan, CEO of Etihad Airways, said they are still at the diligence stage on Alitalia.
"The mandate we have from shareholders is if we can achieve an agreement that meets the commercial mandate, we'll come back and present that to the board. That's where we are at the moment," Hogan said.
With minority stakes in Air Berlin, Virgin Australia, India's Jet Airways and others, Etihad also has its sights on restructuring Air Berlin as it confronts financial constraints and competition from rivals such as easyJet. Etihad has been able to gain access to Germany through its partnership with Air Berlin. German magazine WirtschaftsWoche said Air Berlin would be delisted and Etihad would raise its stake to 49.9%. Negotiations are reported to have reach the final stages are expectations are high that an agreement will be sealed.