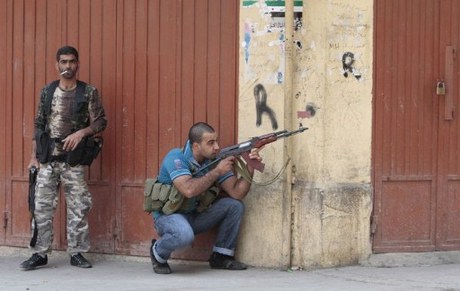 Clashes between sectarian groups in Lebanon have left three dead and more than a dozen injured. The incident occurred in the town of Tripoli after the arrest of a cleric gave rise to protests.
A Sunni cleric, Shadi Mawlawi, arrested on Saturday and accused of being in contact with a terrorist organization incited his supporters to protest against the arrest and alleged charges because they claim he provides charitable aid to the Syrian refugees.
They established roadblocks and demanded his release. They later dispersed when assured by the Prime Minister that their demands will be looked into. The manner in which the Sunni cleric was arrested was also criticized because it is said that he was duped to pay a visit at the Finance Minister's, Mohammed Safadi, Centre for Social Services to be granted health care, where he was arrested.
Violence broke out since Saturday, it's still continuing, when the protesters some in support of the anti-Assad protests in Syria charged the premises of the Syrian Social Nationalist Party, a Pro-Assad organization. Gunshots and rocket propelled grenades soon followed after an Energa-type rocket landed in Al-Qobbel near Bab al Tabbaneh, a Sunni populated neighborhood, killing one person.
It is now a battle between the neighborhoods of Bab al Tabbaneh, dominated by the Sunni Muslims, and Jabal Mohsen, dominated by the Shiites of the Alawite sect of which Bashar Assad of Syria is a member.
The government has called for calm and the military has been deployed in the affected areas of Tripoli to restore order. There have been fears that Syria's crisis may cross over the border among the Lebanese population.