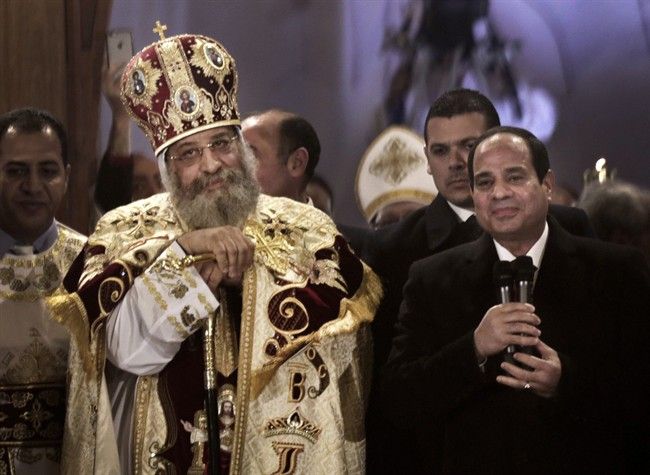 President Sisi warned against the increasing assaults on Christians in the country and vowed that "whoever made a mistake will be held to account by law, starting from the president" because Egypt is "a state of law."
He said during a military graduation ceremony that "Egypt's national unity, which has been the hallmark of the country for over two millennia" and urged people to be wary of "all attempts being made to drive a wedge between Egyptians" because "Copts and Muslims are equal in rights and duties." Some 90% of the country's population are Muslim.
Lately, three people have been killed, several others assaulted and homes torched in mob attacks believed to be carried out by Muslim youths against Christians in the Minya governorate. At least a dozen people have been arrested. The increasing violence said to be motivated by sectarian views has led to public outcry.
Separately, President Sisi in a live broadcast on TV warned "of the consequences of delays in achieving peace" in the Middle East between Israel and Palestine as he pointed out that Cairo's "recent serious effort aims to break the deadlock that has hung over peace efforts." The Egyptian president said their efforts are geared towards making "everyone face their responsibilities."
Egypt has been a principal mediator between Hamas and Fatah as well as between Palestinian Authorities and Israelis. Sisi is even seeking to play a much more significant role. He stated in May that there was a "real opportunity" for a peace deal which would also positively impact relations between Cairo and Tel Aviv and the Arab countries at large.
As part of the improving ties between Egypt and Israel, Foreign Minister Sameh Shoukry visited the Jewish State at the beginning of the month; the first such visit in nine years.
Israel has welcomed Egypt's efforts but continues to maintain that the negotiations should be characterized by direct talks with the Palestinians without any preconditions.