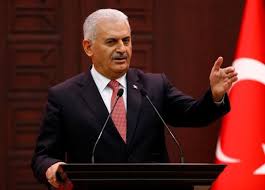 After President Erdogan claimed that Fetullah Gulen, on a self-imposed exile in the US, is behind last week's coup d'état, U.S. Vice President Joe Biden had a telephone conversation with Prime Minister Binali Yildirim wherein he gave assurances that Washington "would work" with the Turkish government on its request to extradite the alleged coup leader.
Turkey's extradition request is currently being reviewed by the U.S. State Department after Washington demanded proves of Gulen's implication as alleged by Ankara.
Sources hinted that Biden informed Yildirim that the final decision is however to be made by U.S. courts.
Foreign Minister Mevlut Cavusoglu said Washington is proposing the setting up of a commission to examine the extradition which, he said, could take long before a decision is reached. "If you want to draw out the Gulen extradition issue it can take years but if you are decisive it can be completed in a short period," he told state broadcaster TRT Haber.
Turkey is expecting the opposition figure, who has denied any role in the coup, to be extradited. Yildirim said they have been warning the U.S. administration of his "harmful activities" and "terrorist organization." He accused him of running a "parallel state" in Turkey after embarking on a long-running campaign to overthrow the state by infiltrating Turkish institutions, particularly the military, police, and judiciary.
More than 15,000, including around 6,800 army personnel, have been arrested or suspended from their activities since the coup failed. President Erdogan has promised a restructuration of the military "within a very short period of time" saying this will give the armed forces "fresh blood." The decision is expected to take place next month during the Supreme Military Council meeting where appointments, dismissals and retirements of high-ranking military personnel are made.
Details of the restructuration are yet to surface but deputy Prime Minister Numan Kurtulmus noted that "there were cases of personal and structural failures in intelligence during the coup attempt" making analysts think that the top brass will be targeted following open criticism by senior government officials of their failure to prevent the coup, control the army and the headquarters.
Kurtulmus is optimistic that the three month state of emergency declared this week might not be extended. "It will take a one or one-and-a-half month period at the maximum" to return to normality, he said.