The Syrian army has increased its airstrikes on rebel held areas and on the militants of the Islamic State of Iraq and Syria (ISIS) in Aleppo although it has recently lost some grounds in the southern part of the country to Islamist groups. President Bashar Assad's air force routinely bombs towns held by the ISIS as well as areas controlled by mainstream rebel brigades. The more than 3-year old war seems to be at a stalemate between the forces loyal to Assad and the rebels seeking his departure.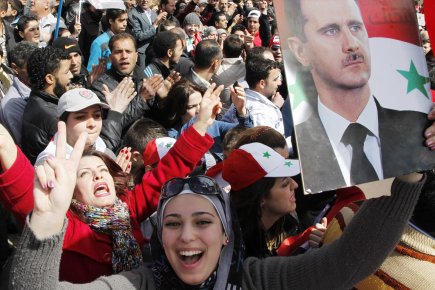 Government helicopters and warplanes carried out airstrikes on the town of al-Bab in Aleppo province. Missiles and barrel bombs were used during the operation which left more than 20 people dead and around 100 people injured. The town is under the control of the ISIS militants.
However, the government retreated in Southern Syria after heavy fighting with the Islamic rebel brigades and Nusra Front, a group linked to al-Qaeda, in Nawa.  Director Rami Abdurrahman of the Britain-based Syrian Observatory for Human Rights said "the Syrian regime pulled out because they are weak there." Nawa and its surrounding areas are now under the control of the rebels and Nusra.
The United Nations is trying to end the war that has already claimed more than 200,000 lives and forced millions of people to flee the country. Its envoy to Syria, Staffan de Mistura met with the country's Foreign Minister Walid al-Moallem on Sunday to discuss a local cease-fire among other issues. A local cease-fire will help stop the fighting in the country.
Before the meeting, a state newspaper criticized the envoy of concentrating on local truces and deviating from "limits of the international mission" that he was entrusted.