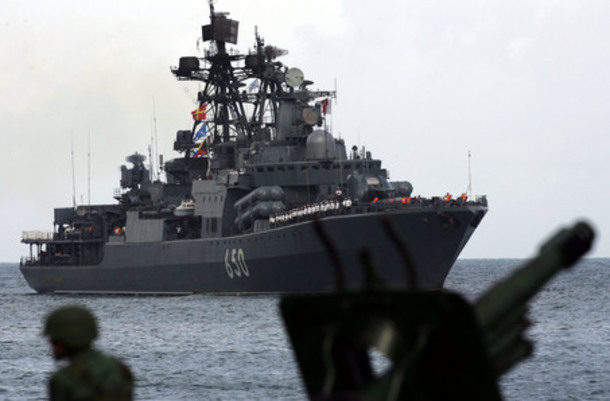 The build-up towards a possible foreign intervention in Syria is getting closer by the day and the allies have been deploying their arsenals in nearby waters. Russia has responded to the anchoring of U.S warships near Syria by sending a missile cruiser, Moskva, to take over "as the flagship of the naval task force" in the Middle East.
White House has been campaigning for a "limited" military attack on Syria claiming that the regime has used chemicals against its citizens. Russia has challenged the claims and has asked for evidences proving that Damascus is guilty to be provided. President Putin said he could be in support of a military intervention is such evidences are presented.
Russia is planning to send two more ships to the region. According to military sources, Moskva will be joined by a destroyer from Russia's Baltic Fleet and a frigate from the Black Sea Fleet. Kremlin says the ships are tasked with the defending Russia's interest in the region. Moskva is expected to be in the east Mediterranean "in approximately 10 days."
The United States ordered its ships to stay close to Syria since last week. Plans for limited strikes have received a positive boost as key figures in the U.S. Congress offered their support. President Putin has warned that any military attack on another state without the U.N's support would be illegal.
There are fears that an attack on Assad will lead to an uncontrollable regional warfare. The rebels have been enjoying the support of European countries, the U.S and some Arab states while Damascus continues to be backed by Russia, China and Iran.
Russia has declared that it has no intentions to react militarily in the region.