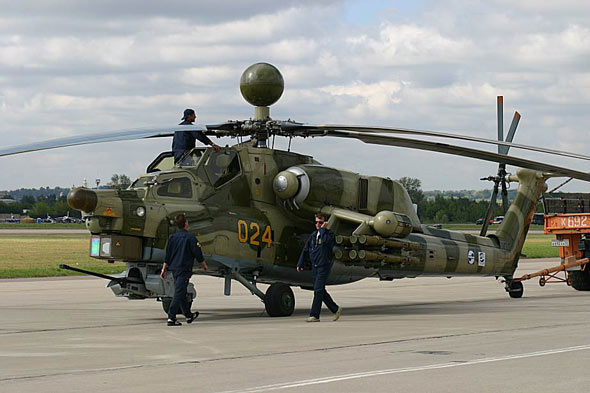 Prime Minister Nouri al-Maliki said that Iraq will begin to receive its $4,2billion arms from Russia in September 2013, but didn't give enough details. Among the first deliveries will be Mi-28NE Night Hunter helicopters and air defense systems. The prime minister said the deal "could protect the sovereignty of the state" after most of the arms were destroyed in the country's past conflicts.
The contracts amounting to $4,2 billion have been finalized and are "being executed." Russian newspapers report that the deal involves 30 attack helicopters Mi-28N and 42 anti-aircraft missiles, gun systems and Pantsir-S1. The prime minister has not ruled out signing new contracts, the recent contracts are not enough to protect the state's sovereignty, which still lacks weapons and hardware. He hailed the long standing relationship shared by Russia and Iraq. Russia continues to be the most "preferable" of all the countries in the arms deal because Iraqi security forces are familiar with its products.
The arms deal has been considered by many to be a scandalous deal but time has proven them wrong. Iraqi officials considered the sum of the contracts were overestimated while the government spokesman Ali Mousavi said that the Iraqi government had terminated the contracts because of suspicions of corruption. Foreign minister Hoshyar Zebari said the execution of the contract was delayed due to their failure to honor their part. However, the Iraqi Defense Minister Saadoun al-Dulaimi denied the report. The Minister stated that the government was just too late in submitting information about the transaction to the country's anti-corruption committee. He added his thoughts by saying that "it's a question of distribution of money."
Iraq's main challenges are the daily suicide bombings taking place every day and at every public place.