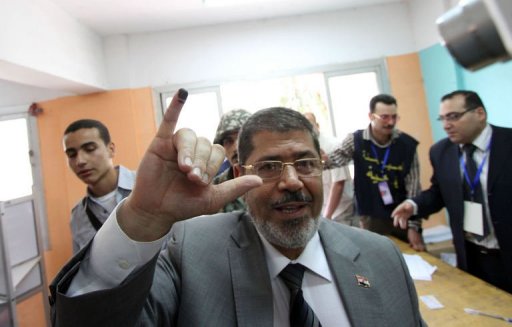 The presidential election commission has officially announced the results of the first presidential elections after the Mubarak regime. There were no outright winners.
Mohammed Mursi of the Muslim Brotherhood and Ahmed Shafiq, the last prime minister to serve under Hosni Mubarak, will be battling it out in a runoff election after securing the highest amounts of the votes cast. The participation was only 46.2% of the registered voters casting their votes.
The president of the electoral commission, Farouq Sultan, announced in a news conference that "according to the presidential election law, there will be a runoff between Mursi and Shafiq". They obtained 5,764,952 and 5,505,327 votes respectively.
Hamdeen Sabbahi, Abdel Moneim AbdolFotoh and Amr Moussa followed in the rankings. They have not yet given their support to the candidates in the runoff but rather criticise the results and the two candidates.
After the results were announced, protesters attacked Shafiq's campaign headquarters in Cairo and set one of its annexes on fire before taking off with laptops, computer and documents. Seven people have been arrested.
Anti-shafiq demonstrations have started gathering momentum at Tahrir Square in Cairo, Alexandria and in other cities.
Many Egyptians have taken the results to be a turn to the old Mubarak regime if Shafiq turns out to be the winner or a call to an Islamic state if it should go in Mursi's favor.
Seven candidates filed complaints about the results but had their arguments dismissed due to lack of evidence or deadline delay. The runoff will be held in mid June but the last hurdle before it will be determining the constitutionality of law which blocked the participation of senior officials in the Mubarak regime as candidates.