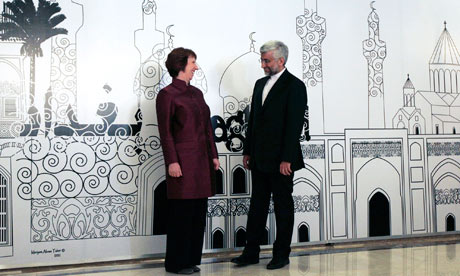 The Baghdad talks have come to an end after an unscheduled additional day to pursue discussions after no agreements were made. Both parties involved in the talks came up with their own proposals which led to another rendezvous in June.
The five member countries of the UN Security Council plus Germany were headed by the European Union's foreign policy chief, Catherine Ashton, while Saeed Jalili, Iran's Chief negotiator, led the Iranian delegation.
The six country delegation is worried about Tehran's 20% uranium enrichment because it makes it possible to build nuclear weapons by bypassing certain steps. Iran argues that the enrichment concentration at such a percentage is to fuel a medical research reactor.
New and old proposals were mixed up and presented by the group led by Mrs. Ashton in a bid to persuade Iran to halt its 20% uranium enrichment program; deemed as a primary step. Iran responded by saying that its nuclear peaceful energy can only be achieved through uranium enrichment and "this is an undeniable right of the Iranian nation… especially the right to enrich uranium".
Both sides agree that there are still efforts to be made in order to come to a conclusion. According to Mrs. Ashton, "significant differences" still exist between the two parties but stressed that they both want to bring the issue to an end.
Iran presented its 5 point plan and insisted that sanctions should be lifted first before it stops its enrichment program; the team of six seeks for the opposite. It also laid emphasis on the fact that pressure isn't the solution and therefore urged for cooperation between parties.
Sanctions still remain in place while another round of talks is scheduled to take place from the 18th to the 19th of June in Moscow.