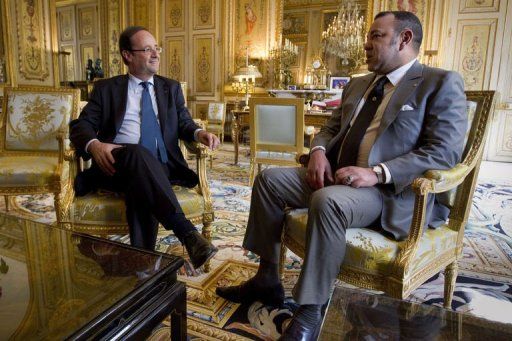 King Mohammed VI was the first foreign head of state to be received at the Elysée palace by the new French president François Hollande for talks on the longstanding relations between Morocco and France.
The King of Morocco, who is on a few day private visit to France, held on Thursday afternoon lengthy talks with the new French socialist president.
That was the first meeting between the two men since François Hollande, succeeding Nicolas Sarkozy, took the reins of power on May 15th.
A statement released by the Elysée after the summit talks said François Hollande expressed "his attachment to friendship between France and Morocco" and "hailed the process of democratic, economic and social reforms underway in the Kingdom at the King's initiative".
" France stands with Morocco in the path it chose to modernize the economy and consolidate the rule of law," the statement said.
According to sources from the Elysée protocol services, the King of Morocco was very pleased with the standpoints expressed by President Hollande on the issues raised during the talks. The same sources said the French head of State assured that France will maintain its traditional support to  Morocco in all the major dossiers  of concern to the Kingdom within the European Union as well as at the UN and at the Security Council.
The stands of the new president, the same sources said, will without the slightest doubt be upheld, without any reservation,  by the whole French political spectrum, whether from the left or from the right, in view of the strategic interests shared by the two countries. France is actually Morocco's first economic partner and Morocco is France's stanch ally in the Maghreb region.
Under Sarkozy's presidency, France did not skimp on the means to extend clear and strong economic, political and diplomatic support to the major development projects launched by Morocco, to the political reforms initiated by King Mohammed VI, and to the Morocco-European Union relationship within the framework of the association accord and the advanced status. Likewise, French diplomacy has supported clearly the Morocco proposed Autonomy Plan as a serious and credible solution to the Western Sahara issue.
Now that they are in power, the Socialists have no reason to change France's economic, political and diplomatic strategy towards Morocco, the same sources said.