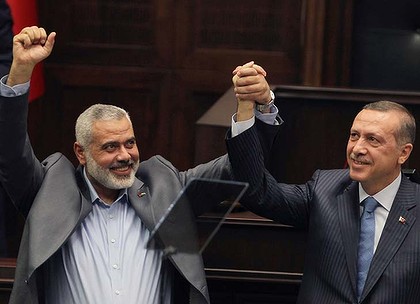 Head of the Palestinian Hamas movement, Ismail Haniya, who is visiting Turkey during his first official trip abroad, has met with Prime Minister Recep Tayyip Erdogan, who reaffirmed Ankara's support to the Palestinian cause.
Mr. Haniya, who has not left the isolated Palestinian Gaza enclave since 2007, arrived in Turkey after visiting Egypt and Sudan part of a tour seeking to lobby regional support for the Palestinians.
He is also expected to visit Qatar, Bahrain and Tunisia and other Arab countries rocked by the Arab Spring which is turning into an Islamic Spring
The Hamas PM in Gaza also met with several Turkish officials and MPs and briefed them on the situation in Gaza and the hardship suffered by the Palestinian people due to the constant Israeli attacks and blockade.
"Jerusalem is facing serious threats due to the Israeli expansionist policy, continuing settlement construction and attacks against holy sites", warned the Hamas leader.
The government of Turkey, which is led by the Islamist Justice & Development Party, has downgraded its relations with Israel and suspended military agreements with Tel Aviv.
Ankara strongly opposes Israel's naval blockade of Gaza, saying it "does not recognize" the blockade and vowed to take "all measures it deems necessary for freedom of navigation in the eastern Mediterranean."
Ties between the two countries worsen after Israel's war against the militant group Hamas in the Gaza Strip in late 2008 and early 2009, killing more than 1,400 Palestinians. Turkish-Israeli relations soured further in 2010 when Israeli commandos killed nine Turkish peace activists on board a boat trying to break Israel's naval blockade of the Gaza Strip. Turkey has demanded an apology and compensation but Israel refused.