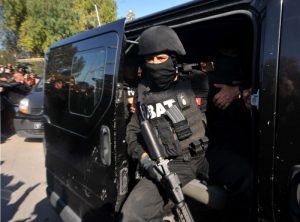 Tunisian security authorities have stepped up investigations and arrests as authorities face returns of jihadists who fought abroad in the ranks of terrorist groups including al Qaeda and the Islamic State group (IS).
Seven terror cells have been dismantled so far this week, the interior ministry announced Wednesday in a statement. The latest cell dismantled operated near Sousse, a town situated in the East of the country.
The 13-member cell used to hold secret meetings in a mosque. The members, aged between 22 and 42, also indulged in the recruitment of young Tunisians for the benefit of terrorist groups abroad, in conflict zones, the ministry said.
The cell busted at Hergla, North of Sousse also admitted it was in contact with leader of a terror group known as Okba Ibn Nafaâ, active in the country's western mountains and linked to al Qaeda in the Islamic Maghreb.
Seventy people have been arrested since December 25 for terrorism related acts, the ministry further indicated.
Tunisia is gearing up to face the return of country's citizens who are fighting abroad. It has been reported that round 5,000 Tunisians have left the country to join terrorist groups in hotbed conflict zone, such as Libya, Syria and Iraq.
The government has charted out a plan of action to tackle the issue. Interior Minister last month during a hearing in parliament indicated that 800 Tunisian jihadists have made their way back home. He said his ministry is prepared to handle the would-be returnees.