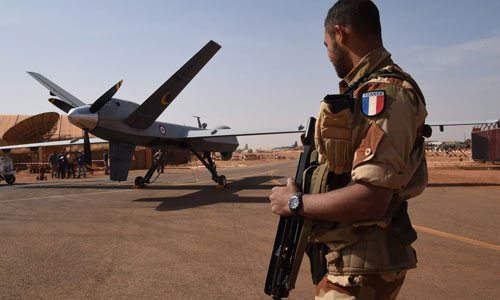 Seventeen Algerian nationals are branded as high value targets in a confidential document of French Directorate of Military Intelligence published lately by le Monde Daily.
The list of seventeen Algerians most wanted by the French security services includes Mokhtar Belmokhtar, leaders of of Al Qaeda in the Maghreb (AQMI), the extremist group Ansar Eddine, and the Movement for Unity and Jihad in Africa West (Mujao).
The list also includes the names of some terrorists who were reportedly killed such as Abdelwahab Al-Harrachi, Omar Ould Hamaha (Mokhtar Belmokhtar's father-in-law),  the Emir of Al-Mourabitoune, Abu Bakr Al-Nasr, Ahmed Al-Tilemsi, Abdelkrim Al-Twargui.
According to Algerian authorities, nearly 55,000 people have been accused of committing "terrorist offenses" since the country's bloody civil war of the 1990s which claimed 200,000 lives.
The brutal conflict broke out between armed Islamist groups and security forces after the army canceled a 1992 election that Islamist politicians were poised to win.
It ended when Algerians voted in a referendum in September 2005 to approve a reconciliation deal that led to 15,000 Islamists being pardoned in exchange for surrendering.
Algeria has sentenced hundreds of people to death. Groups affiliated to Al-Qaeda in the Islamic Maghreb (AQIM) remain active in the northeast where they carry out regular attacks on the security forces.
Authorities have also reported attacks by the Jund al-Khilafa extremist movement which is linked to the ISIS.