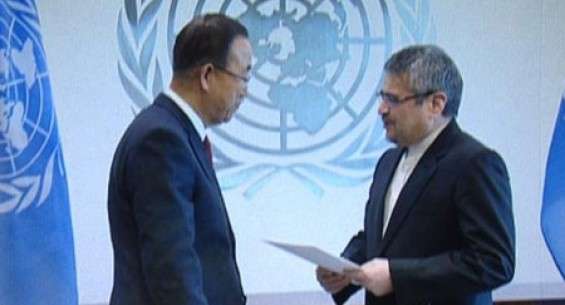 Iran has responded to claims made by eleven Middle Eastern and North African States, about Tehran's interference in their domestic affairs in a bid to destabilize them, in a message delivered by its Ambassador and Permanent Representative to the UN Gholam-Ali Khoshroo to Secretary General Ban Ki-moon. The Ambassador claimed that the accusations that were submitted to UN's Security Council by the United Arab Emirates (UAE), on behalf of the other states, alleging that Iran is pursing "expansionist regional policies" backed by its constitution which "calls for export of revolution to other countries" are "absurd and hypocritical" as he argues that some of the signatories to the accusations are "interfering into domestic affairs of other countries" such as Yemen.
Bahrain, Egypt, Jordan, Kuwait, Morocco, Oman, Qatar, Saudi Arabia, Sudan, UAE and Yemen forwarded their concerns in the letter to the Security Council but Khoshroo said the baseless "childish" accusations are due to "Iran's support for the right of the Palestinian people to self-determination" before counter-accusing other countries of sponsoring terrorism in Iraq and Syria among others. He described the presence of Iranian troops in Syria as "military advisory assistance" requested by the legitimate government and in accordance with International Laws before crediting their contribution to pushing back ISIS and other rebel groups.
Tehran has often been accused of backing the Houthi Movement in Yemen but the Iranian Ambassador said there has been no "shred of evidence" in this regard claiming that is a farce. Iran is also accused of providing support to Hezbollah in Lebanon as well as dissident cells in Bahrain. Responding to allegations in relation to Bahrain, the Iranian Ambassador defended Tehran's denial by quoting that the Bahrain Independent Commission of Inquiry Report stated that evidence provided by Manama "does not establish a discernable link between specific incidents that occurred in Bahrain and Iran."
Focusing on individual state claims such as the fatal stampede that occurred in Mina, Saudi Arabia, during the 2015 Hajj, the letter to Secretary Ban Ki-moon reiterated Iran's call for a "transparent and independent investigation" while refuting criticisms of "politicizing" the incident. With regards to territorial dispute over the islands of Abu Musa, Lesser Tunb and Greater Tunb which UAE claims falls within its national boundaries, Tehran stated the "unilateral claim" is "categorically rejected" as it "does not recognize the existence of any such dispute" between the two countries although it is willing to hold talks aimed at "removing any misunderstanding" for the sake of upholding "its utmost respect for the principle of good neighborliness."
The letter once more highlights the tense relations between Iran and other States in the region as they continue to have diverging views over several key issues in the region especially in countries marred by conflicts.