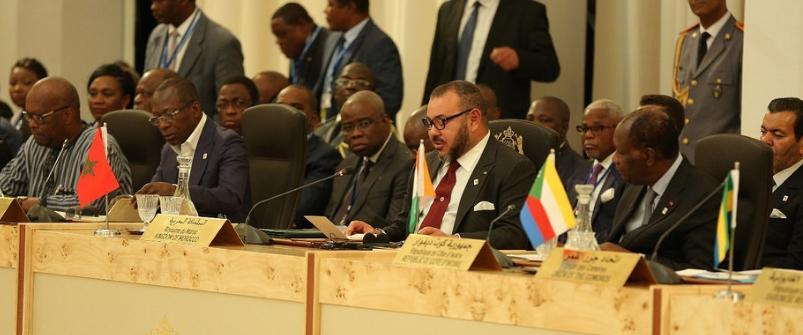 King Mohammed VI has called on African countries to adopt a common approach against climate change and work out actionable measures for sustainable development.
In his speech made at the opening of "Africa Action Summit", convened in Marrakesh on the sidelines of the 22nd UN climate change conference (COP22), the Moroccan Sovereign urged African leaders to endeavor building an African continent that is "resilient to climate change and that commits resolutely to sustainable development".
He also expressed hope to see an African continent "that will use its resources in an optimal way, while respecting environmental and social balances, a continent that will seek to promote inclusive development".
The King Morocco also said that Africa is paying a heavy price in the climate equation. "It is, undoubtedly, the continent that is suffering the most".
According to the Moroccan Monarch, "rising temperatures, shifting seasons and successive droughts are depleting the biodiversity of our continent, destroying ecosystems and jeopardizing Africa's progress, security and stability".
"And yet, our continent is responsible for only 4% of greenhouse gas emissions", added King Mohammed VI, noting that global climate change is significantly hampering Africa's development and "poses a serious threat to the basic rights of tens of millions of Africans".
He also deplored that that "all types of vulnerabilities are concentrated in our continent" as there are already 10 million climate refugees in Africa. And by 2020, nearly 60 million people will be displaced because of water scarcity.
According to the Sovereign, African agriculture – which consists predominantly of subsistence farming – employs 60% of the African workforce; "yet our crops suffer from severe disruptions, and our food security is seriously jeopardized".
Thus, "agricultural output in Africa could therefore drop by 20% by the year 2050 when our population will have doubled. Entire sections of the coastline and almost a third of coastal infrastructure would be submerged", said the Moroccan Monarch, noting that water-borne diseases, which kill thousands of people each year, would be eradicated if wastewater treatment plants were created.
In COP22, "it is important that our continent speak with one voice, demand climate justice as well as the mobilization of the necessary resources and submit concerted proposals in connection with the fight against climate change", said King Mohammed VI, stressing the need to identify measures to gain access to funding in order to organize the continent's adaptation efforts.
He also called for institutional capacity building in Africa, the promotion of "green" jobs and development of low-carbon opportunities offered in the fields of energy and technological innovation.