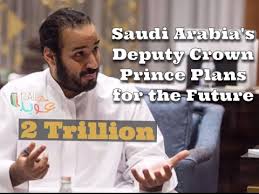 Saudi Arabia is stepping up efforts to shift its economy's reliance away from oil with investments from the Public Investment Fund (PIF) expected to control more than $2 trillion.
The announcement was made by Deputy Crown Prince and Defense Minister, Mohamed bin Salman, who said that the kingdom's part of the diversification program includes offering less than 5% of Aramco to investors as early as 2017.
Mohamed bin Salman was speaking to Bloomberg in a marathon interview during which he explained that funds collected from the planned Initial Public Offering (IPO) of Aramco will be transferred to the PIF to "technically make investments the source of the Saudi government's revenue, not oil."
He added that the investments would be diversified in a way that "within 20 years, we will be an economy or state that doesn't depend mainly on oil."
Majority of PIF's investments are in domestic projects but it is hoping to increase its foreign investments from 5% to 50% by 2020. Some of its domestic stakes are in Saudi Basic Industries Corp., the world's second-biggest chemicals manufacturer, and National Commercial Bank, the Kingdom's largest lender while its foreign stakes include South Korea's Posco Engineering & Construction Co.
Aramco is one of the world's biggest oil companies but Riyadh wants to transform it into an industrial conglomerate.
Independent energy consultant Leo Drollas thinks that it is an "imperative" move because the kingdom is "worried about the long-term future of the oil industry." Low global oil prices contributed to a budget deficit of $98billion in 2015.