US must choose between Kurdish rebels and Turkey, Erdogan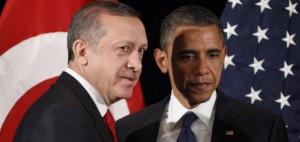 Turkish President Recep Tayyip Erdogan is unhappy with the US after an envoy of President Obama last week paid a visit to Kobani, in Syria.
Kobani is under the control of the military wing of the Kurdish Democratic Party, called the Kurdish People's Protection Units (YPG).
Ankara considers the group as a terrorist organization due to its close ties with the Kurdistan Workers Party (PKK) and Erdogran stressed that the U.S should choose between Turkey and the Kurdish armed groups asking "is it me who is your partner or the terrorists in Kobani?"
Brett McGurk visited Kobani when talks in Geneva were ongoing. The Kurdish Democratic Party (PYD) has been receiving US support to fight the Islamic State and Obama's envoy said his visit was aimed at reviewing the fight against ISIS. The group has been able to repel the attacks of the extremist group after forcing it out of Kobani last year.
Erdogan also questioned US policies asking "do you accept the PKK as a terrorist organization? Then why don't you list the PYD and the YPG as terrorist organizations too?"
PYD was not invited to the Geneva talks after strong opposition from Turkey.
Ankara is opposed to relations or support of Kurdish armed groups due to fears that the creation of an autonomous Kurdish region in Syria would trigger separatist claims among Kurdish Turks.
Ankara has recently barred Syrian refugees from entering through its Oncupinar border crossing point which faces the Bab al-Salama frontier post inside Syria. Deputy Prime minister Numan Kurtulmus said the country has "reached the limit of its capacity to absorb" refugees while admitting that "we are not in a position to tell them not to come. If we do, we would be abandoning them to their deaths."
Short URL: https://me-confidential.com/?p=11821
Posted by
Jaber Ali
on Feb 8 2016. Filed under
Headlines
,
World News
. You can follow any responses to this entry through the
RSS 2.0
. Both comments and pings are currently closed.