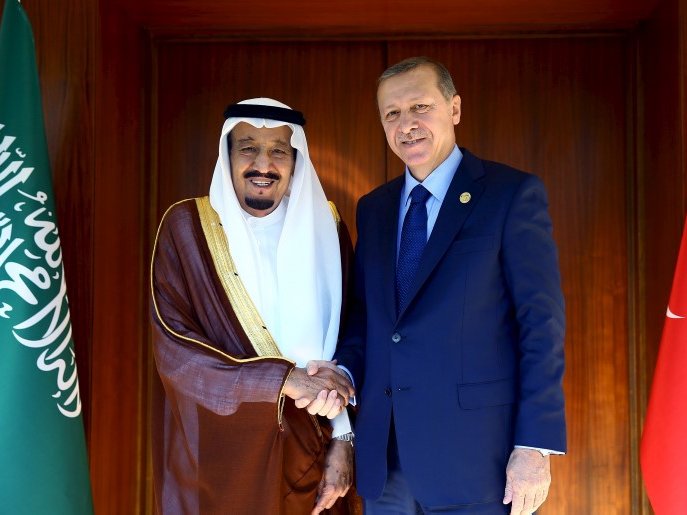 President Erdogan's had a closed door meeting with King Salman in Riyadh to discuss issues of mutual interest which ended with the Saudi Foreign Minister Adel al-Jubeir announcing that the two countries have "produced a desire to set up a high-level strategic cooperation council" between them. The council is expected to dwell on "many matters, including security, military, political, economic, trade and investment fields as well as energy, education, cultural affairs, medicine and other fields." Ankara has been boosting its ties with Gulf States recently and it had just announced the establishment of its first military base in Qatar at the beginning of the month.
The strategic cooperation council will be headed by the foreign ministers of the two countries while other ministries and sectors will help in upholding its tasks. Minister Jubeir said the two countries share similar political and security views and the newly agreed upon institution will help to boost their cooperation.
The announcement of the cooperation also coincided with the Jubeir criticizing the killing of Zahran Alloush, leader of Jaysh al-Islam rebel group in Syria, by a Russian airstrike as a move that "does not serve the peace process in Syria." He was speaking at a joint press conference with his Turkish counterpart Mevlut Cavusoglu. Both Ankara and Riyadh back rebels fighting against the Syrian President Bashar al-Assad's forces in Syria, and have been critical of Russia's involvement in the conflict.
The Saudi-led Islamic Military Alliance was also discussed as both countries continue to fight against terrorism. 34 countries have pledged to be part of the Alliance dedicated to fighting against terrorism and extremist groups. One of the key targets of the alliance is expected to the Islamic State group.