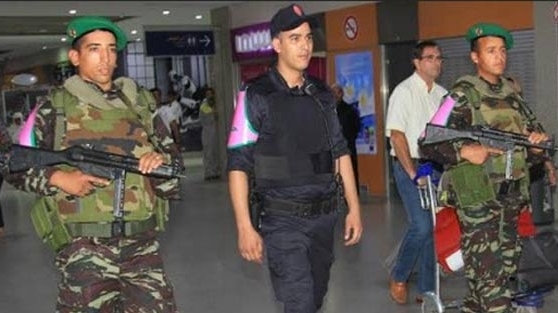 100,000 security forces will dispatched across the country from December 30 to ward off terrorist attacks planned by IS an attempt to inflict losses to the kingdom, reports say.
Morocco daily Assabah relayed by other local media Wednesday indicates that not less than 100,000 Moroccan armed forces including Royal gendarmerie, police will be mobilized from Wednesday at new year festivals protect citizens from IS's planned attacks against the kingdom.
"Informed sources have sent firm instructions to all departments to mobilize as soon as Tuesday, December 29 at midnight, 100,000 officials from the military, national security, the Royal Gendarmerie and the Auxiliary Forces," the daily said.
Armed forces will be dispatched at popular venues of the country, tourist attraction, public places while security at the country's border will be beefed up in order to foil intrusion attempts of militants on the territory to perpetrate terrorist attacks.
In addition the daily points out that a command center has been established within the Moroccan Army forces' General Staff.
It is also announced that Morocco's intelligence services, including the Moroccan General Directorate of National Security (DGSN), the General Directorate of Territorial Surveillance (DGST), the General Directorate of Studies and Documentation (DGED), and the Royal Gendarmerie, will work in cooperation with the command center.
The daily also announces that holidays and travel plans for all armed forces and security forces will be called off in the frame work of the decision.
Morocco is increasing its security level following genuine sources which informed authorities of IS's plans to attacks European capitals and countries involved in international coalition pounding IS positions in Syria, Iraq.
On Monday, the Moroccan daily indicated that reports stemming of several European countries' intelligence services indicated that IS was planning sweeping attacks in capitals of countries waging war on IS.
Besides, confirmed sources, including French and American intelligences services indicated that IS could use toxic gas Sarin it acquired in Libya and Iraq against some countries including Morocco.