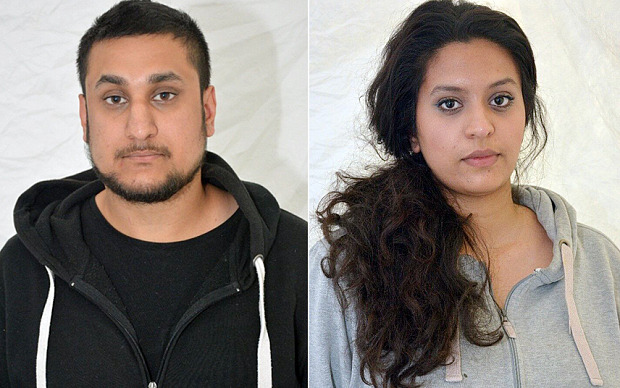 A UK couple fan of London 7/7 bombing has been handed life in prison sentence Wednesday after security investigations revealed that the couple was plotting IS-style attacks on the tenth of London 7/7 bombings.
Sana Ahmed Khan, 24 and Mohammed Rehman, 25 were sentenced to life in prison by a UK court for planning attack on a shopping center or Tube network when they were arrested.
Reports say the pair from Reading secretly got married and were also sympathizers of London 7/7 bombings.
Sana Ahmed Khan from rich and well-to-do family according to report has tarnished the reputation of her respected family. The Telegraph also added that she pushed her husband to perpetrate the terrorist act.
She also according to reports wrote to the judge for clemency after hearing she could spend more 25 years in prison and may never be released.
"I implore you to have mercy when considering my sentence," she reportedly wrote.
Her plea has been reportedly rejected by the judge who said: "Although I do not consider that it is likely that you were initially attracted by the excitement which appeared to be offered by engagement with the actions of Islamic State, I am satisfied that it was you who became interested in the theological justification of its aims, and thereafter encouraged Mohammed Rehman to pursue its ideology.
"Once you had gained that mindset, I am satisfied that you too determined to fulfil the Islamic State's call for jihad, by the carrying out of an act of terrorism within the United Kingdom."
Reports add that Rehman from less posh family has been sentenced a minimum of 27 years in prison for becoming a radicalized Islamist.
"The type of act which you envisaged not only encompassed the use of explosive substances which would be used to maximum effect so as to cause multiple injuries and fatalities, but specifically included a suicide bombing, an act which envisaged martyrdom," the judge said.
Rehman according to reports was caught after arousing police attention by going online as the "Silent Bomber" and asking Twitter followers where he should attack.
It is also reported that Khan also started sponsoring the plot with her wages and by taking out payday loans.
Rehman's family which has disowned their son suggests that the couple deserves what they got. Rehman's sister also indicates that Rehman was ashamed of his family and wanted to impress his posh partner.
"She was this posh girl. Her family is very proper. And she made him feel beneath her. I think he was ashamed of us and that's why he didn't want our family to meet her family," she said.