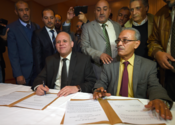 Ambassadors and special envoys to Libya Tuesday issued a joint statement rejecting the Tunis Libyan-Libyan deal while stressing that only the UN-facilitated National Dialogue Agreement is the way the forward to put an end to the Libyan political crisis.
Ambassadors and special envoys of France, Germany, Italy, Spain, the United Kingdom, the United States, and the Head of the EU Delegation to Libya in the statement maintained their strong support to the UN-led talks on the Libyan crisis and the achievements attained.
The group of diplomats "friends of Libya" argues that only the UN-brokered National Dialogue Agreement is the solemn roadmap to end the agony of Libyan people while chiding the Libyan-Libyan Declaration of Principle inked by the Tripoli-based General National Congress (GNC) and a team of the House of Representatives (HoR) based in Tobruk.
The group also argued that the National Dialogue Agreement clinched in Skhirat (Morocco) was endorsed by all Libyan sides including the GNC and the HoR and encompasses all concerns expressed by all sides whereas the Tunis deal was the sole work of handful of participants of both sides.
"The agreement represents the culmination and consensus of a year of complex negotiations between the wide breadths of Libyan participants in the National Dialogue. It enjoys the support of the Libyan people and majorities of both House of Representatives (HoR) and the General National Congress (GNC)," the statement said.
"The Ambassadors and Special Envoys noted that a recent 'declaration of principles' has been announced by a very small number of HoR and GNC MPs while a sustainable solution to the crisis can be only as inclusive as possible. No last minute attempt to derail the UN driven process will succeed," the statement continued.
The diplomats also underlined their support to the Libyan National Agreement and urged the remaining Libyans still opposed to the Agreement to quickly endorse it and think of the interest of the nation.
The upcoming Rome international conference on Libyan crisis will be an opportunity for the international community to re-affirm its commitment to an urgent conclusion of the Libyan Political Agreement, the statement said.
Rejection of the Libyan-Libyan deal by the group of diplomats to Libya also follows a dismissal by majority of the HoR members who indicated that their team which took part in the Tunis talks was not mandated by the house.
92 members of the HoR following the signing the Tunis deal issued a joint statement distancing themselves from the move while throwing their support behind the UN-brokered National Dialogue Agreement.
"We will not accept wasting a whole year of efforts for the initiative to take us back to zero while the nation suffers," one of the HoR signatories said.
Reports say UNSMIL Head Martin Kobler is to meet with the HoR and the GNC's respective teams this week in the build-up to the Rome conference scheduled to December 13.