Turkey accused of conspiring with IS to attack Kobane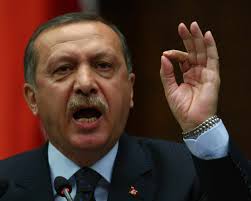 An early Thursday morning attack on Kobane by ISIL left many people dead and stirred anger in Turkey with one of the key leaders of the pro-Kurdish Peoples' Democratic Party (HDP) alleging that Ankara cooperated with the extremist group to commit"massacre." Reports have claimed that the militants of the Islamic State entered Kobane through Turkish territory but Rêdûr Xelîl, spokesperson of the Kurdish militia group People's Defense Unit (YPG), said "the primary information and the eye-witnesses say that they entered from Turkey, but officially we don't have confirmed information yet."
Figen Yuksekdag co-leader of HDP said "the Turkish government has supported ISIL for years." He added that there is a "high probability" that ISIL traveled through Turkey to commit "today's massacre" as Ankara continues to support the group. His claims were termed as "lies" by the spokesperson of the foreign ministry while the government rejected them but Yuksekdag stressed that "the remarks of Turkish politicians are null and void for us. It is up to the Turkish government to prove it does not support ISIL."
The incident could complicate talks for a coalition government.
President Erdogan condemned the Islamic State's "hateful attack… which targeted innocent civilians in the town of Kobane" and also refuted collaboration claims with IS."Nobody has the right to associate Turkey with terrorist organizations" he said as he pointed out that Turkey's hospitals received "injured Syrian civilians… immediately after the attack" for treatment.
This is not the first time Turkey has been accused of collaborating with IS even though it is part of the U.S.-led coalition. Earlier this year, President Assad claimed that Erdogan "doesn't only ignore the terrorists from [Turkey] coming to Syria. He supports them, logistically and militarily. Directly! On a daily basis."
Short URL: https://me-confidential.com/?p=9924
Posted by
Jaber Ali
on Jun 26 2015. Filed under
Headlines
,
World News
. You can follow any responses to this entry through the
RSS 2.0
. Both comments and pings are currently closed.