Iraq: Coalition ministers support Abadi's Ramadi plan, long battle ahead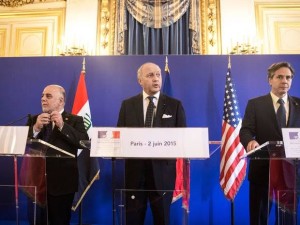 Iraq's allies in the fight against the Islamic State of Iraq and Syria (ISIS) on Tuesday pledged their support for an emergency plan adopted by Baghdad after the key city of Ramadi was taken by militants.
Baghdad has vowed to push the extremist group out of the city and continues to mobilize armed groups. An offensive plan adopted by Iraqi Prime Minister Haider al-Abadi's office is gathering pace but is yet to be successful.
The Iraqi military was been unable to resist an attack from the militants of the Islamic State in Ramadi and government is now counting on the Sunni tribes of Anbar province and Shia militias for a counter-offensive.
A statement at the end of the meeting of the coalition minsters that took place in France affirmed their support to the plan and U.S. deputy secretary of state Anthony Blinken described the plan as "the right plan both politically and militarily for Iraq at this time."
The Iraqi government has struggled to control armed groups fighting against the Islamic State and there had been several reports of sectarian incidents between the Shias and the Sunnis. Baghdad is hoping that with the new plan, it will oversee and have authority over all the groups.
The minsters also reviewed their strategy in Iraq after several months of airstrikes failed to stop the Islamic State from making territorial gains in some areas. French Foreign Minister Laurent Fabius acknowledged that fighting the Islamic State will be a "long-term" battle but they continue to have "total determination" to win it. Blinken claimed that they have found "the right strategy" and it is "a combination of air strikes, training and effective global partners."
Short URL: https://me-confidential.com/?p=9715
Posted by
Jaber Ali
on Jun 3 2015. Filed under
Headlines
,
World News
. You can follow any responses to this entry through the
RSS 2.0
. Both comments and pings are currently closed.