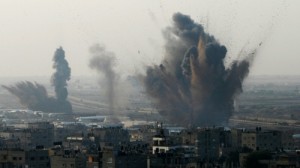 Israel defense forces have reacted to a missile rocket fired from the Gaza Strip on late Tuesday evening with early morning airstrikes on Wednesday targeting "terrorist locations." Hamas has not claimed responsibility for the Grad missile fired but Tel Aviv has stressed that any threat coming from the Gaza Strip will be linked to the group.
Defense Minister Moshe Ya'alon said calm must return to Southern Israel because a new round of regular rocket fire will not be tolerated as he vowed that the residents of Gaza would pay a heavy price if the firing continues. Military spokesman Lieutenant Colonel Peter Lerner said "the reality that Hamas's territory is used as a staging ground to attack Israel is unacceptable and intolerable and will bear consequences."
The rocket fired from the Gaza Strip landed near the town of Gan Yavne, outside Ashdod, shortly after 9 p.m. and residents claimed that they heard several blasts but there are no reports of damages, injuries or casualties.
Spokesman Lerner tweeted that the Israeli defense force "attacked 4 terrorist locations in southern Gaza" and a witness claimed that the training camps of the Islamic Jihad group in Rafah, Khan Yunis and Gaza City were among the airstrike targets. Islamic Jihad is one of the rival armed groups of Hamas in Gaza.
Although Hamas did not take credit for the rocket fire and sources in the Gaza Strip said the rocket was likely fired by members of the Islamic Jihad, Israel had maintained that it holds Hamas responsible for all attacks emanating from the Gaza Strip because it is governing the area. An Israeli Radio reported that Hamas is trying to calm the situation with rival Palestinian groups in Gaza before tempers flare.