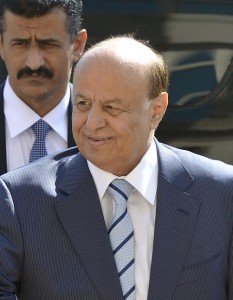 Yemeni President residing in Saudi Arabia has named former Prime Minister Khaled Bahah as Vice-president in a move that analysts believe is geared towards paving the way for a political solution of the crisis. A personal adviser to president Hadi revealed to Reuters that the presidential "order" was issued for his appointment "as part of efforts to revive the dialogue process sponsored by the United Nations."
Bahah was among those who were kept under house arrest or detention by the Houthis before being freed after President Hadi fled to Aden from a House arrest in Sana'a. Bahah resigned while under captivity and didn't take up his post as Prime Minister when he was freed. He headed directly for Saudi Arabia urging the Yemeni transitional authorities to negotiate with the Houthi Movement.
Popular across Yemen's spectrum of feuding parties, Bahah could be considered as a person who could calm tensions and bring warring parties to the negotiating table. Before Saudi Arabia and its allies started the airstrikes, U.N special envoy to the country Jamal Benomar warned that neither the Houthis nor the government forces are in a position to obtain an outright victory as he pushed for negotiations between the parties.
United Nations Secretary-General Ban Ki-moon said on Sunday that he "strongly objected to the Houthis attempting to control the country by force" stressing that it is "unacceptable" before showing concerns about the "military escalation." He warned that the crisis "should not be allowed to grow into a protracted regional conflict" and urged for an urgent return to peaceful negotiations.
Iran's call for a ceasefire in Yemen was questioned by Saudi Arabia's Foreign Minister Saud al-Faisal who said that their mission is "to help the legitimate authority" in charge of Yemen.