Iraq : ISIS is defeated and cannot advance, Iraqi Major General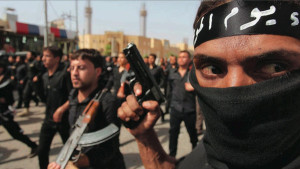 An Iraqi major general in the Salaheddin province has claimed that the Islamic State (I.S) has been defeated in the country after forces securing the Baiji oil refinery repelled an early morning attack. The battle with the militants was described by the major general as "the fiercest since we broke the siege a few months ago."
IS showed pictures of convoys of their Humvees attacking the refinery perimeter and of fighters apparently inside the limits of the site but the army official said the refinery is still under the government's control despite I.S claiming that it broke into it. He said that "Daesh (an Arab acronym for I.S) is trying to send the message that they are everywhere but in fact they are defeated and cannot advance."
Baiji is almost 200 kilometers north of Baghdad and once produced around 300,000 barrels of refined petroleum products per day, meeting 50% of the country's needs. The refinery is the largest in the country.
According to the major general, two suicide bombers were killed during the attack before one blew himself up near the entrance gates while 20 ISIS militants were also eliminated in raids by the Iraqi air force. He said IS militants attacked the large complex from three directions namely from the Al-Bujwari village to the south, the housing compound for refinery employees to the west and one of the smaller plants producing derivatives to the east.
ISIS started taking over Iraqi territories in June last year before declaring territories under its control as an Islamic State. It has been on its back heels in recent months after being forced out of Tikrit at the beginning of the month
Short URL: https://me-confidential.com/?p=9401
Posted by
Peter Mulvany
on Apr 13 2015. Filed under
Headlines
,
World News
. You can follow any responses to this entry through the
RSS 2.0
. Both comments and pings are currently closed.