Yemen: meetings to reactivate political process to be held in Riyadh, GCC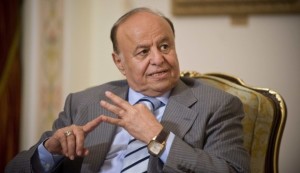 Members of the Gulf Cooperation Council (GCC) have agreed to President Hadi's request to hold talks to end Yemen's crisis in Saudi Arabia although the Houthi Movement has ruled out holding the UN-brokered talks outside the capital Sanaa.
GCC Secretary General Abdullatif Al Zayani said the talks to be held in Saudi Arabia are a separate initiative because they will focus on resuming the political process that started in 2012 after the popular uprising ended President Saleh's regime. He said all the stakeholders in the Yemeni crisis are invited.
The talks will be held under the conditions laid down by President Hadi in a letter to Saudi Arabia's King Salman which includes condemning the "coup d'état" of the Houthis, handing over all seized military equipment and allowing the state to recover and impose its authority within Yemen.
Qatar is currently holding GCC's rotating presidency and its foreign affairs minister Khalid Al Attiyah said invitation to the talks is also extended to the Houthis but "it's their business to accept or not."
The political process to be discussed in Saudi Arabia proposes the establishment of a federation, a proposal flatly rejected by the Houthis who claim that it will divide the country between the rich and the poor. They stick to the "national dialogue" under the supervision of UN envoy Jamal Benomar and insist that it is held in Yemen. Separatists from Southern Yemen have suspended their participation in the dialogue unless it is held abroad.
Meanwhile, Houthis were engaged in military exercises near the borders with Saudi Arabia and heavy weapons seized from the Yemeni army were used. Houthi commander Mohammad Al Bukheiti said it is "a joint manoeuvre between the army and the Popular Committees (Houthi Movement)."
Short URL: https://me-confidential.com/?p=9266
Posted by
Peter Mulvany
on Mar 13 2015. Filed under
Gulf News
,
Headlines
. You can follow any responses to this entry through the
RSS 2.0
. Both comments and pings are currently closed.