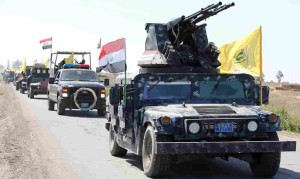 Iraqi forces are making advances on Tikrit and have declared parts of the city that have recovered from the Islamic State of Iraq and Syria (ISIS) as liberated. The city has been under the control of ISIS since June last year. The assault on Tikrit started from the east and along the banks of the Tigris River 10days ago with more than 20,000 troops and Shia militias, supported by local Sunni tribes.
Iraqi forces have now taking control over central Tikrit but a senior army officer stressed that victory is still far away as the battle for city is "very delicate" because they are obliged to advance slowly due to booby-traps and sniper fire. The officer added that the army, police and members of the large volunteer force called Popular Mobilization units have entered Qadisiyah and are carrying out combat missions to cleanse the town's neighborhood. Several other military and political sources confirmed that Iraqi forces had retaken control of a significant part of Qadisiyah, a large neighborhood stretching north of the city center.
Baghdad is hoping that a victory over ISIS in Tikrit will motivate Sunnis in places within the Islamic State to pick up arms against the group especially in the city of Mosul.
Meanwhile, the extremist group has also launched a coordinated attack in the city of Ramadi, government controlled, with almost seven suicide bombs detonated simultaneously. Police say around 10 people were killed and dozens injured. ISIS has been losing grounds in recent times although it has intensified the release of assassination videos and its latest battle also involves destroying historical antiquities that it considers un-Islamic.
Iraqi forces are hopeful that they will be able to overcome the group despite the lack of foreign boots on the ground.