Jordan: Intimidating ISIS looking for Islamic legitimacy, King Abdullah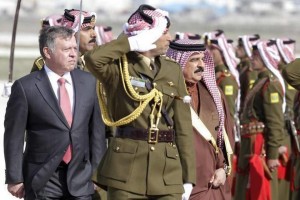 After the brutal killing of captured Jordanian pilot by ISIS, King Abdullah shared his views on ISIS during his first interview after the assassination. He said the killing of the pilot only motivated Jordan to increase its efforts against the group.
Abdullah told CNN the group uses intimidation to put fear in people's hearts with its propaganda videos. He revealed that he did not watch the video and added that "all soldiers past and present were disgusted by the brutality of what Moath was put through." ISIS captured the pilot when his fighter jet crashed in northern Syria.
President Obama was credited by the King for distancing ISIS from Islamic extremism because their actions are not Islamic. Abdullah said the group is "trying to invent falsely a linkage to a caliphate, link to our history in Islam that has no truth or bearing to our history." The caliphate declared by ISIS is composed of Iraqi and Syrian territories under its control. He claimed that the group is "looking for legitimacy [that] they have inside of Islam" but actually its members "are on the fringe of Islam."
The king stressed that ISIS will pay dearly for its actions as he vowed that its efforts to intimidate Jordanians will have a "reverse effect" on them. "If you look at our history, we're a country that's used to being outgunned and outnumbered. We've always punched way above our weight. I think, if anything, Daesh has us as a tiger by the tail," he boasted. However, he seems to be pitiful for the "deluded young men and women" who believe that ISIS "is an Islamic nation."
Short URL: https://me-confidential.com/?p=9213
Posted by
Jaber Ali
on Mar 2 2015. Filed under
Headlines
,
World News
. You can follow any responses to this entry through the
RSS 2.0
. Both comments and pings are currently closed.