Hezbollah's response to the airstrike attack which killed five of its members, amongst them a son of the organization's late military chief and an Iranian officer, will be made public in the coming days. Sheikh Naim Qassem's, Hezbollah's deputy leader, made these remarks when mourners met to commemorate their loss. Israel has not confirmed whether it carried out the attack in Syria or not but both Iran and Hezbollah are pointing their fingers at Tel Aviv.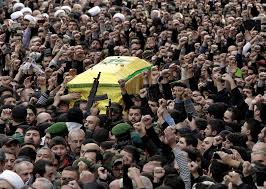 Qassem told the mourners that the airstrike is a "Zionist attempt to lay the foundation for a new (military) equation of our struggle with them." Hezbollah has often suffered from airstrikes in Syria believed to be carried out by Israel although both parties have always stayed silent about it. Qassem added that "Israel is too weak to draw new steps or new rules" and wants to achieve what it couldn't through war. He confirmed that they will react to the strike but said that the official response will be announced by Nasrallah in the next few days.
Israel is fully aware of the threat and has boosted its fronts. Defense Minister Moshe Yaalon said on the state's Army Radio that "an Iranian effort in partnership with Hezbollah to open a front" on the Golan Heights was exposed by the airstrike even though he declined to speak about the role of Israel in the attack. "They started with rockets and a few bombs. We understood that they apparently want to upgrade it to high-quality and far more significant terrorist attacks," explained Yaalon.
Nasrallah said provoking Hezbollah will lead to a dirty war because its arsenal has weapons of all types. Analysts believe that Hezbollah cannot remain silent because of the prominence of those killed.