North Africa security agencies are anxious and very concerned over the setting up of terror training camps in eastern Libya by the extremist religious group of the Islamic State.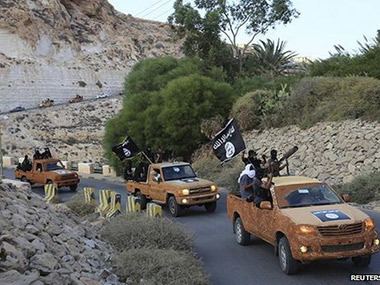 According to US Army General David Rodriguez, who heads US Africa Command, "a couple of hundred" fighters are undergoing training at the sites in Libya
Last month, militants in the Mediterranean coastal city of Derna in Libya swore allegiance to the Islamic State (Is), becoming the first city outside of Iraq and Syria to publicly join the "caliphate" announced by the Islamic State of Iraq and the Levant.
Several leading Islamist militants had travelled to Derna earlier in the year, where they helped unite various rival extremist factions behind them.
A number of Islamist radical groups in Libya, Egypt, Algeria and Yemen have also sworn allegiance to the Is. Many political analysts and Western countries are concerned over the instability in Libya where armed groups commit widespread human rights abuses with impunity and challenge the authorities of central government, threatening security and undermining the efforts of rebuilding state institutions.
Some experts have warned that that Libya could quickly become a failed state and a haven for al-Qaeda militants as "Illicit flows of weapons from Libya to a range of non-state actors, including terrorist groups" are gaining momentum.
It seems that the armed terrorist groups in Libya are strengthening their position due to the lack of political and security stability in the North African country. The situation has so far encouraged illicit trading which has generated considerable money-making opportunities for traffickers and terrorists.