The Emir of Qatar, Sheikh Tamim bin Hamad al-Thani, arrived in China on Monday for a two-day working visit. He was received by the Chinese president Xi Jinping. Several agreements have been concluded on the first day of the visit as both countries intensify their efforts towards a "strategic partnership." Diplomatic ties between the two states started in 1988.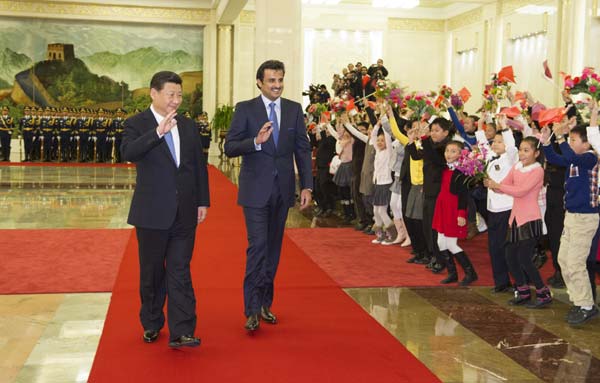 After a close door meeting between the two head of states, which was also attended by senior ministers and other officials, a joint communiqué was released citing that the meeting centered on "the common interest of the two countries and the two people and serve their development and prosperity." The cooperation between the countries has yielded "fruitful results" through their exchanges in diverse areas of mutual concern.
China's President applauded Qatar's participation in the building of the Silk Road economic belt and the 21st-century maritime Silk Road which will help to bolster trade and commercial activities between Asian countries. According to him, "China is willing to establish a long-term stable energy partnership with Qatar and boost co-operation and investment in infrastructure, telecommunication and finance as well as joint investment in third countries."
The Emir equally expressed similar feelings. He also donated a $10 million grant to the Peking University for the setting up of a Qatar Chair for Middle East studies. Qatar University and Peking University are also expected to bridge the relationship between them
In a bid to further steer their ties, the communiqué stated that the "realistic needs" and the "common desire" to reach new heights has led to the decision of establishing "a strategic partnership" between them.
China has been strengthening its ties with countries in the Middle East in recent years.