His Royal Highness Prime Minister Prince Khalifa bin Salman Al Khalifa of Bahrain is in Thailand where he held talks with his Thai counterpart Prayut Chan-o-cha. The two have raised the need to activate the diverse bilateral agreements between them as well as share their know-how in areas of interest. They are also considering serving as an opening for each other into their respective regions.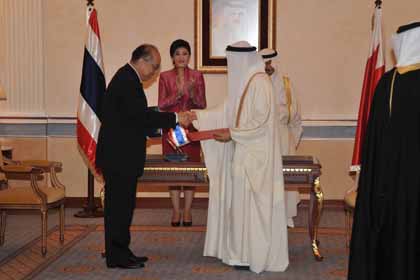 Bahrain and Thailand have concluded several economic, trade, investment and cultural agreements that need to be bolstered by further cooperation. However, it seems as if much has not been done to make them productive.
Prime Minister Khalifa highlighted that he wants the cooperation to be fruitful because of the strong political, economic and trade partnership between them. Efforts are underway to establish new partnerships that will strengthen their economic cooperation and encourage investors from both countries to venture in targeted areas such as the service, industrial, production and trade sectors. He challenged the private sector to make use of the partnerships.
The Thai Prime Minister lauded the effort of his Bahraini counterpart in developing the ties between them as well as strengthening GCC-Asian ties in all fields before expressing similar sentiments of intensifying their cooperation with Bahrain.
Bahrain and Thailand have affirmed the need to co-ordinate stances towards regional and international issues of mutual concern as they strive to gear their cooperation towards common goals. They expressed the desire to consolidate trade cooperation by promoting Bahrain as a center for Thai trade operations in the region, and Thailand as Bahrain's gateway to South-East Asian markets.
Bahrain is hoping to benefit from Thailand's experience in food security and investment in agricultural products and goods.