Demonstrations in Sana'a by the Houthis demanding the resignation of the government and the re-establishment of the government subsidies will enter its "third stage," Houthi leader Abdul Malik Al-Houthi warned. He claimed that it will be the "most painful." President Abd Rabbuh Mansur Hadi alleged that the Houthi movement's ambition is to rule the country as he accused Iran of mingling into Yemen's affairs.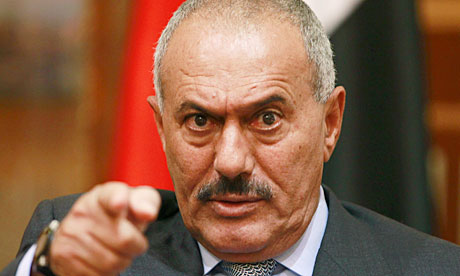 The government has deployed security personnel in the capital's strategic areas after armed Houthis took up positions on rooftops in the city. Government troops will also ensure that the capital is not shut down because several sites are being occupied by the protesters. Talks between the government and the Houthis broke down at the start of this week, with both sides calling on the other to make concessions.
President Hadi is accusing the Houthis of being self-centered and don't respect agreements. He said Houthis are "reckless" and determined to implement a "sectarian agenda" as they are thinking "only. . . about ruling Yemen" and do not have the interest of the Yemenis at heart.
UN secretary-general's special envoy to Yemen, Jamal Benomar, said both parties should "realize that there is no way out of this crisis except through a peaceful, consensus solution, based on the decisions of the National Dialogue Conference which were agreed on by Yemenis and supported by UN Resolution 2140."
Abdul Malik Al-Houthi promised that the third stage will begin next week. He claimed that it will be "the most painful" and "very uncomfortable" as he urged the army to act as "the defender of the public."
The protests began last week but Al-Houthi referred to it as "the revolution" that is now "about deciding the future of Yemenis."