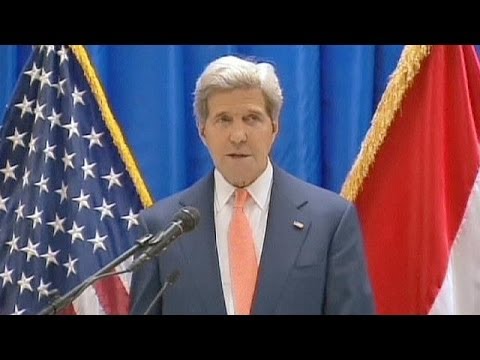 Saudi Arabia will be receiving John Kerry on Friday to discuss regional issues that could be detrimental to the US. Riyadh is a key regional ally to Washington. Kerry is expected to meet King Abdullah to discuss "the great urgency" that the region is going through. Iraq will also be high on the agenda during the meeting, Kerry hinted. The fighters of the Islamic State of Iraq and the Levant (ISIL) are gaining grounds in Iraq making many countries to be worried.
Sunni Militants, spearheaded by the ISIL fighters and joined by supporters of executed dictator Saddam Hussein, have over run a large chunk of northern and north-central Iraq in the past week, although their advance has since been slowed. Reports have claimed that Iran is offering military support to Baghdad to stop ISIL advances. Saudi Arabia has accused Baghdad of implementing sectarian policies against the Sunnis.
John Kerry stated that they will discuss with Saudi Arabia on "how we can counter the sheer threat that is posed by ISIL as well as to discuss our support for the moderate opposition in Syria."  President Assad of Syria has been able to resist to a more than a 3year war aimed at removing him from power.
Kerry believes that the chaos in the Middle East poses a menace to U.S security. He warned that "a faraway threat can have tragic consequences at home in the most unexpected way, the most unexpected moment." American "military advisers" are already in Iraq but their role has been questioned.
Iran has warned that it could intervene in the conflict if ISIL fighters threaten to destroy Shite shrines. It has already mobilized its military along its border with Iraq.