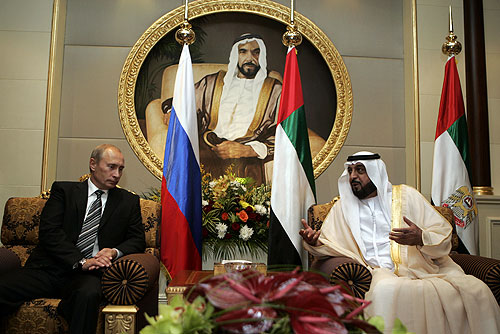 The United Arab Emirates (UAE) is proud to state that its relations with Russia have been growing stronger and hopes that it will continue. The Minister of Economy Sultan Bin Saeed Al Mansoori used the bilateral economic relations that they share to portray their level of relationship as he claims that such relations justify the political understanding and will that the leaders of the two countries share in common.
Trade exchanges between Russia and the UAE has been increasing in the past few years. Bilateral agreements between them have contributed immensely to the solidification of their efforts. Minster Al Mansoori stated that the visit of Sheikh Mohamed Bin Zayed Al Nahyan, Crown Prince of Abu Dhabi and Deputy Supreme Commander of the UAE Armed Forces, to Moscow in September 2013 "cemented" the growing relationship.
UAE has already ratified cooperation on peaceful nuclear energy and another agreement on the protection of investments and relevant protocol with Russia in 2013. They are also working towards doubling their cooperation in aviation, coordination among the chambers of commerce and an end to double taxation.
Al Mansoori is convinced that "economic ties are usually a reflection of political ties and indicate the level of friendship and trust between any two countries." He added that there are "opportunities that can be further explored."
The total volume of trade in 2012 stood at $1.5 billion. Non-oil trade between the two counties soared by 7.5% in 2013 and registered $897 million. In addition to 30 agencies and 124 trademarks, eight Russian companies registered with the UAE Ministry of Economy. Russian and Emirati businessmen partnered in more than 350 joint ventures in the UAE and more than 40 Russian companies opened representative offices in the UAE.