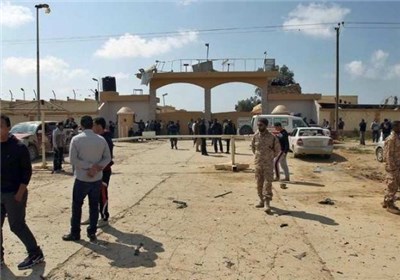 The Jordanian ambassador to Tripoli, Fawaz Aitan, has been kidnapped by gunmen in an armed attack against the diplomat's convoy. The ambassador driver and one his bodyguards suffered gunshot wounds during the assault.
The abduction comes two days after interim Libya's Prime Minister Abdullah al-Thani stepped down, saying he and his family had been the victims of an armed attack.
Mr. Fawaz Aitan was among the first Arab ambassadors to be assigned to Libya after the revolution that toppled the Gadhafi regime. He worked previously for the Jordanian embassy in Morocco as a diplomat.
Abductions are very common in Libya wherein the militias that filled the post-Gadhafi vacuum are challenging the weak central government authority.
The secretary of Tunisia's ambassador to Libya was abducted three weeks ago, and has yet to be found.
The US ambassador, Chris Stevens, and three other US citizens were killed in an attack on the US consulate in Benghazi on 11 September 2012.
The convoy of the British ambassador to Libya, Dominic Asquith, was hit the same year by a rocket-propelled grenade in Benghazi, wounding two guards.
In a bid to buy out peace and show appreciation for their role in overthrowing Gadhafi regime, the interim government tried to integrate militias into the state apparatus. It currently pays 160,000 members of these often violent groups $1,000 a month and entrusts them with keeping order.
But under militia rule, Libya is beginning to disintegrate and slipping into chaos. Last summer forces under the command of the warlord Ibrahim Jadran took control of eastern oil terminals, demanding autonomy and more resources for Cyrenaica, the long-neglected oil-rich east of the country.
Oil exports collapsed from about 1.5m barrels a day to fewer than 500,000, costing the country billions of dollars. The fundamentalist Islamist forces have also flourished in post-Gadhafi era. The Islamists groups are better organised than their liberal rivals in Libya. Their political influence is growing. They have gained seats in the North African Parliament and removed last march the ex-Prime minister Ali Zeidan.
But what is most worrying is that Libya's chaos is spilling over across the region. The country is awash with up to 15 million rifles and other weapons. A UN report has warned lately that "Libya has become a primary source of illicit weapons". These arms are fuelling violence in 14 countries, including Somalia, the Central African Republic, Nigeria and Niger, while some Arab Gulf countries are helping to deliver the Russian-made Libyan weapons to Syrian rebels, including Islamist fighters.