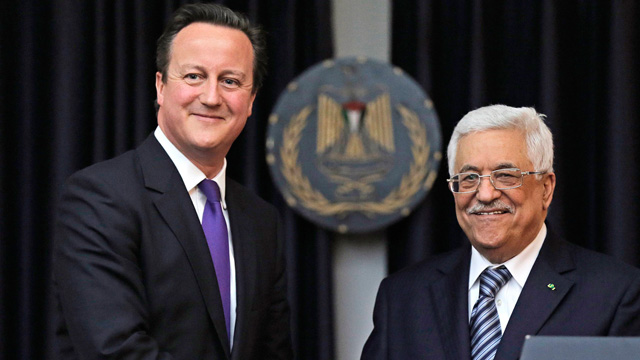 Head of the Palestinian authority Mahmoud Abbas has received lately in the West Bank town of Bethlehm British Prime Minister David Cameron during his Middle East trip to rekindle the peace process.
"The situation in Gaza is unacceptable. There are 1.7 million people living in Gaza, a huge number are reliant for their life on food aid, there is extremely high unemployment, there is very low provision of healthcare", said Mr. Cameron.
The UK Prime minister, who met also with his Israeli peer Benjamin Netanyahu, gave a pessimistic view over the prospects for agreement but says Netanyahu and Abbas are "willing to be partners for peace".
"I have seen serious disagreements over vital issues that will have to be settled if there is ever to be a successful two-state solution, and a peace deal", added Mr. Cameron after two days of extensive talks with Palestinian and Israeli leaders.
But Cameron's visit to the Middle-East was overshadowed by the fightings between Israeli forces and Palestinian extremist groups, following the air strikes launched by Tel-Aviv in response to a rocket attack from Hamas-occupied Gaza.
He called on PM Netanyahu and President Abbas to build on the strong leadership they have shown so far and to take the final difficult steps towards peace.
"The prize could be great: a stable, prosperous Middle East with a sovereign and viable Palestinian State living in peace alongside a secure Israel at the heart of it", said Mr.Cameron.
Last month, the Conservative PM postponed his trip to the region due to the unprecedented floods that hit the United Kingdom.