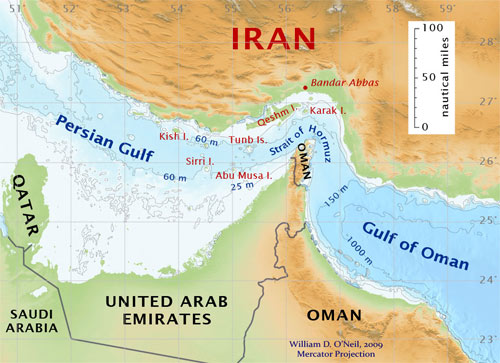 Oman and Iran have been strengthening their ties since the arrival of Hassan Rouhani as President. In the latest concrete act towards bolstering their cooperation, a bridge of "peace and friendship" will be built over the Strait of Hormuz to link the two countries. President Rouhani has also been invited by the Sultan Qaboos bin Said to Oman. He is expected to honor it very soon.
The Strait of Hormuz is 39 kilometers wide and the bridge is expected to link the Oman's Musandam enclave with Southern Iran thereby offering an entry into the economy of the Gulf Cooperation Council. Iran has tense relations with some of the countries in the region but it has recently increased diplomatic efforts to reduce the friction. Upon completion, the overhead bridge will become the first road link between Iran and the Gulf states.
Tehran's Ambassador to Muscat, Ali Akbar Sibeveih said the bridge project will be undertaken by Omani and Iranian contractors. He added that it will be the sign of "peace and friendship between Iran and Oman, other GCC countries and Yemen." The latest technology will be used to construct and manage the bridge.
Oman's Musandam peninsula is not contiguous with mainland Oman. It is an enclave surrounded by the United Arab Emirates. It is connected to mainland Oman with a road through the UAE and a ferry service between Khasab, the main city in Musandam, and Muscat, the capital.
Sultan Qaboos bin Said has been knitting solid ties with Iran since 2009. He was the first head of state to visit Iran after the reelection of Ahmadinejad. Last year, he also went on a visit in august to discuss bilateral relations. Cooperation in the aviation sector between them has also increased.