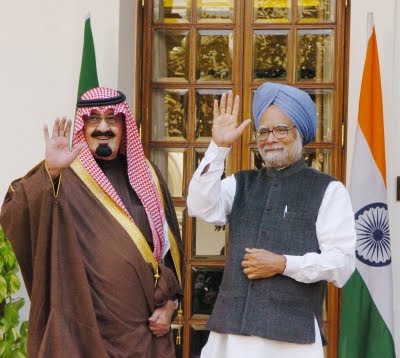 As a final stop on his tour of Asia, Saudi Arabia's Crown Prince Salman will be paying a three-day state visit to India beginning on Wednesday and talks are scheduled to be held between the Saudi–Indian Joint Business Council in order to enhance investment opportunities between both countries. The talks intend to focus on a wide array of issues, part of which is to do away with obstacles facing the movement of capital between both countries. Projects and specific investment opportunities will be exhibited as well as means of establishing a number of joint banking initiatives to fund projects and to promote trade between the two nations. Discussions would also be held on boosting trade in non-oil products and services, and investment projects in the small and medium enterprises sectors in both countries.
Investment in India is deemed lucrative by the secretary-general of the Council, Khalid Al-Otaibi, who termed India as "an important strategic partner on both the political and economic levels" that "has climbed the global economic rankings." He envisaged cooperation with India in various fields as it has put forward an impressive package of prospective investment projects in fields such as education, health, infrastructure and communication.
According to Abdullah Al-Mubti, the chairman of the Saudi Chambers of Commerce, discussions would be held on forming an investment holding company based in Delhi. The company which would be established using capital from both countries is aimed at funding projects in industrial cities in Saudi Arabia.
Saudi Arabia is known to be India's top crude oil supplier and its fourth-largest trading partner. Both countries have maintained a growing bilateral trade relationship since 2007 apart from the interlude during 2008–2010. Trade between both countries rose to 16.75% amounting to 44 billion US dollars.