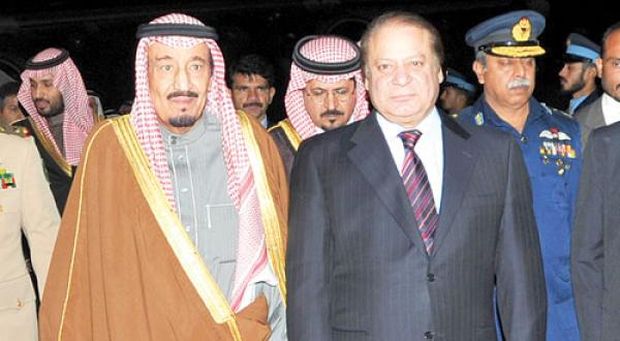 On honoring the kind invitation of Prime Minister Muhammad Nawaz Sharif, Saudi Crowned Prince Salman Bin Abdulaziz visited Pakistan along with a delegation. During the visit, the Crowned Prince held talks with the President, the Prime Minister and other high level officials. The nature of the frequent visits mirrored the level of understanding, affection and mutual respect between the people of Pakistan and the Saudi Kingdom.
A call was made by both sides to take advantage of the opportunities available in both countries, to further strengthen cooperation in various fields and to fortify existing political relations between both countries. Both sides also expressed the need to improve bilateral cooperation in the field of defense and the importance of completing necessary measures for signing of the agreements and MoUs in various fields.
On international issues, the two sides echoed the need of finding a quick solution of the existing conflict in Syria; one that would reinstate peace and security in the country and protect the Syrians from further harm. Both sides called for an immediate withdrawal of all foreign armed forces and elements from Syrian territory, lifting siege of the Syrian towns and villages, setting up of safe corridors and regions to deliver food and humanitarian aid to besieged Syrian citizens. Foreign fighters are believed to be prolonging the Syrian war.
Regarding Palestine, the two sides reaffirmed their consistent stand to support the Palestinian right to arrive at a just solution which means standing against Israeli practices. They believe peace efforts should be based on Arab peace initiatives and the relevant UN Resolutions. The Kashmir dispute, the positive developments in Indo-Pakistan relations and the support for the political process in Afghanistan were also part of their discussions.