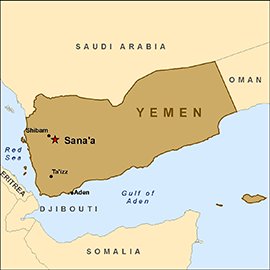 As part of its political transition, it has been agreed during a meeting of a presidential panel headed by President Abd-Rabbu Mansour Hadi, that Yemen will be transformed into a six-region federation. The committee, which includes representatives of Yemen's main parties, was formed in late January to decide on the number of regions. The future federation will include four northern regions; Azal, Saba, Janad and Tahama and two southern ones; Aden and Hadramawt. However, the capital city of Sanaa will not be affiliated to any region and will have a "special status in the Constitution to guarantee its independence and impartiality."
The issue has been a rather controversial one with parties divided on whether to split the future federation into two or six regions. The government fears dividing the state into two states could give the opportunity to the south to break away from the north. The decentralization could give the south a sense of autonomy but future problems are anticipated as the split is uneven.
Hashem Ahelbarra, Al Jazeera's Yemen correspondent expressed his doubt of the southerners accepting the system, saying "it shows that people in the north, who consider themselves the political elite in Yemen, still insist that they have to become and stay as a majority and therefore they were granted four provinces in the federal system." The struggle for autonomy has long pushed on by the south.
The proposal will be part of a new constitution which will be decided in a referendum before the end of the year. Yemen's national dialogue ended a year of protests against former president Ali Abdullah Saleh, who after 33 years in power stepped down. Al-Qaeda affiliates continue to terrorize the country.