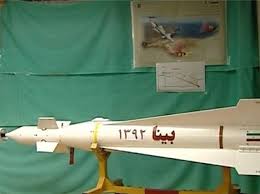 To mark the occasion of the 35th anniversary of the victory of Iran's 1979 Islamic Revolution (February 11), two new missiles – a laser-guided surface-to-surface and air-to-surface missile  named Bina and a new generation of long-range ballistic missiles carrying Multiple Reentry Vehicle (MRV) payloads – were successfully tested. Iranian President Hassan Rouhani, in a message on Monday, commended the Supreme Leader of the Islamic Revolution Ayatollah Seyed Ali Khamenei, defense industry scientists and the entire Iranian nation for the success of the test-fire.
"On the eve of February 11 (anniversary of the victory of the Islamic Revolution) and concurrent with the beginning of the 36th year of the blessed life of the Islamic Republic of Iran, your Mujahed and scientist children succeeded in test-firing a new generation of long-range ballistic missiles successfully," he said addressing the Iranian nation. "I congratulate this great achievement to the Commander-in-Chief of the Armed Forces (the Leader) and the great Iranian nation, scientists and industrialists of the Defense Industries as well as the Armed Forces"
The missiles, which were tested on the eve of the anniversary, are highly efficient and capable of destroying massive and multiple targets and evading enemy's anti-missile defense systems, highlighted Iranian defense minister Brigadier General Hossein Dehqan. The Bina missile is laser-guided and can be fired from aircraft and different ground launch platforms. It's also capable of "hitting important targets, including bridges, tanks, military hardware and command centers of enemies," he emphasized.
Other specifications of the missile include "high-speed in destroying the targets, easy maintenance and high-speed of operation as specifications." The newly developed ballistic missile with MRV payload, on the other hand, can destroy enemy's military hardware and all types of enemy military equipment.