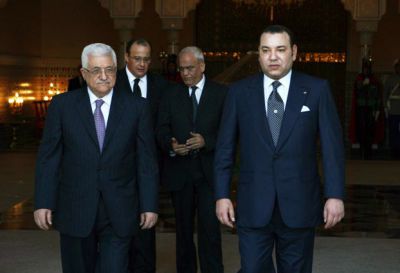 The city of Marrakesh is hosting Thursday and Friday a meeting of the Al-Quds (Jerusalem) Committee, an offshoot of the Organization of Islamic Cooperation, that will debate the Israeli moves attempting to judaize the holy city, alter its demographic data and isolate it from its natural geographical environment.
The meeting to be chaired by the Committee's chairman, King Mohammed VI, and to be attended by Palestinian president Mahmoud Abbas, will focus on ways to counter Israel's judaization and settlements policy in Jersulaem, review the political, legal and human situation of the city and confirm its position as a model of coexistence of the three monotheistic religions.
It is a very opportune moment to convene the Committee's 20th session as the city is endangered by Israel's ceaseless attempts to confiscate more lands, its manoeuvers to force the city's authentic inhabitants to leave their hometown and its moves to alter the city's historic landmarks , including Al -Aqsa Mosque.
Since it occupied Al- Quds in 1967, Israel has been violating the international law through its repeated provocative acts and attempts to distort the historical reality of the city and obliterate its civilizational and religious identity.
The committee meeting will thus provide an opportunity for the Islamic Nation to explore ways of forcing Israel to end its provocative acts, compelling it to comply with international law and obliging it to respect the Palestinian people's legitimate rights, the ultimate goal being the preservation the genuine geographic, historic, cultural, religious and demographic identity of the city.
The committee meeting, convened at the call of King Mohammed VI, is also an opportunity to put once again the Jerusalem issue on top of the international diplomatic agenda at a time the U.S. meditation to put back on track the Israeli-Palestinian peace process is in crucial phase, and at a time Jerusalem status remains at the core of the Israeli-Arab conflict.
The meeting to be attended by the foreign ministers of the Committee's member states, the OIC secretary General, as well as representatives of the UN Security council permanent members, the UN, the European Union, the Vatican and the Arab league, is preceded on Thursday by a meeting of experts.