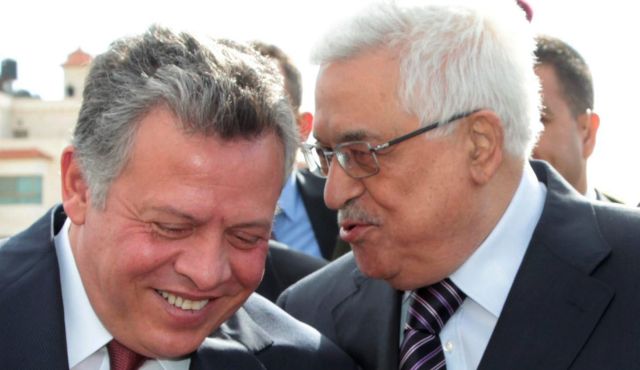 King Abdullah II of Jordan received Palestinian Authority President Mahmoud Abbas to discuss about the latest proposals brought forward by US  Secretary of State John Kerry. Jordan is interested in seeing a definitive peace deal between Israel and Palestine. The objective of the meeting was to deliver a common response to Kerry.
According to President Abbas, the meeting with the King focused on "exchanging views about unifying the Jordanian-Palestinian position on…Kerry's initiative". He added that "Kerry is still providing ideas, which we are discussing. He will come again soon. We continue to meet with his aides until ideas mature and before he comes up with a framework for the agreement".
Jordan has a peace treaty with Israel. It also wishes to see the end of hostilities between Israelis and Palestinians. King Abdullah II supports the Palestinian cause for a state with the borders of 1967 andeast Jerusalem as its capital. Its Foreign Minister Nasser Judeh, who once told EU envoy Tony Blair that the Israelo-Palestine conflict is part of Jordan's "vital interests", underlined that they will continue to support Palestine because its Jordan's national interest.
Israel has been reluctant to accept such a condition during negotiations. It has been active in constructing settlements on lands considered to be Palestinian territories.  These settlements are considered as a blockade to possible peace deals as they remain illegal under international law.
John Kerry also toured the region to promote his ideas. He has met JordanianKing Abudllah II and with Foreign Minister Nasser Judehas, well as with Saudi Arabia's King Abdullah on Sunday to gather up support for his peace efforts. He believes a peace deal will result in a peaceful atmosphere between Israel and the Arab world.