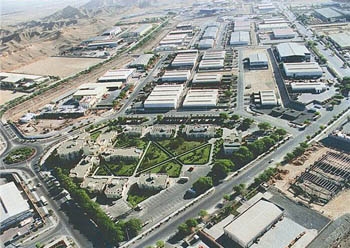 The Sultanate of Oman and Libya have expressed their desires to further bridge the relations between them during the visit of a Libyan delegation.  Omani authorities will be discussing with the delegation from Libyan Export Promotion Centre about means of promoting cooperation and joint ventures between investors from the two countries.
The Libyan delegation toured several industrial centers. It was also briefed about Oman's development history and how plans were made to make use of its strategic location. Oman's Public Establishment for Industrial Estates (PEIE) welcomed the delegation to the Rusayl Industrial Estate. The estate is the Sultanate's first industrial estate and has undergone several upgrades since 1983 in order to adapt to the industrial demands of the country. PEIE is tasked with promoting Oman as an industrial regional center and thereby drafts its regional and global competitive strategies
The delegation also visited the Industrial Innovation Centre (IIC), which endeavors to develop sustainable models for creating an innovative culture within the industrial sector of the country. The center is a joint venture between The Research Council (TRC) and PEIE, and aspires to build a knowledge-rich culture within the industrial sector in Oman through highlighting mutual benefits of collaboration with the research community including universities, labs, institutes, and science centers.
Libya has been urged to diversify its economy which is dependent on oil. The delegation from the Libyan Export Promotion Centre was interested in Oman's prominent characteristics of investment promotion. North African countries have been benefitting from the delocalization of European industries because of their proximity to the continent.
The delegates admired the achievements that have been made by Oman and hope to that the establishment of stronger trade and investment ties between them will be useful to their investors.