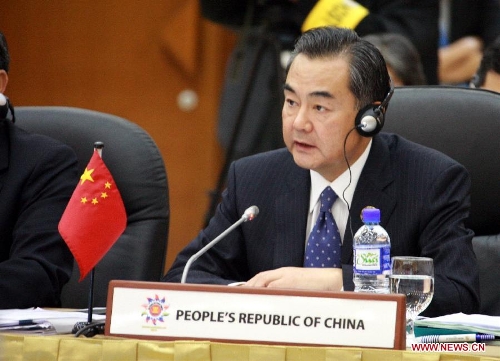 The visiting Chinese foreign minister to Algeria, Wang Yi, elaborated to his country's desire to "better safeguard" its interest and those of the Arab countries based on a four plan strategy. Minister Wang Yi dwelled on the plan during a joint press conference with Ramtane Lamamra, Algeria's foreign Minister.
Minister Yi said "we understand the Arab's people's appeal for reform" and hope that it will lead to "a political system and development path suitable for their national conditions." Libya, Tunisia and Egypt are still struggling to satisfy their people's appeal. Yi pointed out that "outside forces should have no right to make decisions for the Arab countries and people".
Most of the countries which have experienced the Arab Spring are struggling with political crisis. The Chinese Minister urged parties to be engaged in peaceful solutions to their differences and added that they are willing to voluntarily participate actively in finding a political solution to the Middle East peace process crises concerning the region. The peace process between Israel and Palestine has suffered several setbacks. Both sides have accused each other of sabotaging a peace deal.
Wang Yi stated that China is "willing to strengthen collaboration and cooperation to better safeguard the interests of both China and the Arabic nations, as well as other developing countries." He urged other countries to restrain from "harming the Arab countries' national dignity in excuse of anti-terrorism and human rights" after reminding Arab countries that they are "important and equal members of the international community".
According to the Foreign Minister, their relation with the Arabs is based on a strategic and long-term perspective and they are determined "to enhance pragmatic cooperation in all areas" to utilize the "huge potential and broad prospects" of the China-Arab cooperation.