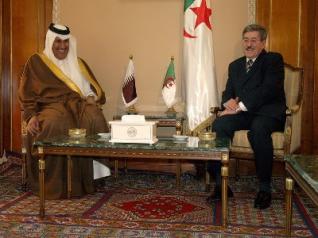 Qatar's Foreign Minster Minister Khalid bin Mohammad Al-Attiyah accompanied with a high ranking delegation arrived in Algeria on Thursday for a three day working visit. He was received by his Algerian homologue, Ramtane Lamamra. Discussions during his stay will be centered on strengthening bilateral relations, economic partnership and investments. Minister Al-Attiyah delivered a letter on behalf of the Amir Sheikh Tamim bin Hamad Al Thani to Algerian President Abdelaziz Bouteflika.
One of the highlights of his visit is the signing of a $2 billion contract for building a steel plant in Algeria between Algeria's Sider and Qatari Steel International. The plant is to be located in the town of Bellara, Jilel province, almost 359 km east of the capital. The Minister of Industrial Development and Investment Promotion Amara Benyounes said work is expected to begin on the site within a couple of weeks.
Emphasizing on the ties between the two countries, Minister Benyouness said the deal is a cornerstone for their strategic economic partnership. Algeria is facing housing shortage and allocates almost $10 million to steel imports per annum. The Bellara plant is expected to begin production in 2017 and will produce 2 million tons of steel annually before eventually reaching a maximum output of 5 million tons.
The two foreign ministers also took time to discuss the events in the Middle East and North Africa. Al-Attiyah said they had a "cordial rich meeting" noting that they share "similar views on a number of issues relating to the Arab region" and described their vision concerning the region as "identical".
The region has been affected by violence and political crisis forcing regimes in certain countries to step down while others have plunged into a war. The economies are also affected consequently.