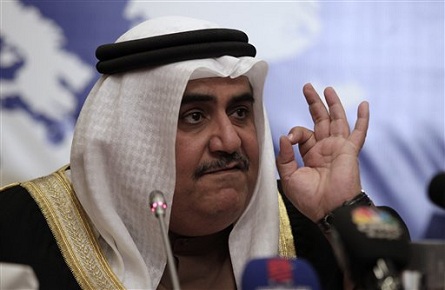 Bahrain is among the first countries in the Middle East to hail the Iranian nuclear agreement as a step in the right direction much to the dismay of other countries blatantly against it.The acclamation was made by its Foreign Minister Shaikh Khalid Bin Ahmad Al Khalifa during a joint press conference in Manama with the Turkish Foreign Minister Ahmet Davutoglu.
Minister Shaikh Khalid Bin Ahmad Al Khalifa of Bahrain said the agreement will bring calm to the region because it will "eventually serve stability and defuse any imminent crisis". He went on to further say that they are foreseeing the establishment of "good relations with Iran based on mutual respect of sovereignty". He also dismissed claims that Manama's foreign policy is based on provisional regional alliances by emphasizing that they "do not change allies like…in a market" but rather "look for stability with our neighbors".
Addressing the importance of the bilateral relations between Turkey and Bahrain, Minister Shaikh thanked Minster Ahmet Davutoglu for his government's support during the country's crisis, respect of its national sovereignty and discouraging foreign interference. He said that Turkey remains "highly significant" and wishes that their cooperation will extend to cover "all fields".
Minister Davutoglu appreciated Bahrain's gratitude and maintained that it is part of their policies not to interfere in the internal affairs of other states. He went on to say that they will always uphold such a principle. Davutoglu then diverted his attention to Cairo whom he referred to as "our friends". He said they wish to see a "good government" in Egypt before blaming the latter for the latest diplomatic brawl between them.
Ties between Manama and Ankara are strengthening as the political, economic, tourism and cultural sectors continue to remark positive results in their exchanges.