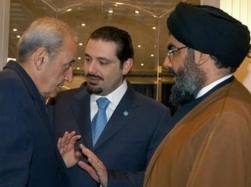 Hezbollah's Secretary General, Sayyed Hasan Nasrallah, has accused Saudi Arabia of urging political parties to block the formation of a government which it should be part of. His claims have been denied by Former Prime Minister Saad Hariri who stated that Nasrallah is having "pipe dreams". Hezbollah claimed that the oil rich kingdom wants to delay the process until a solution in Syria is found.
Secretary General Nasrallah appeared publicly as part of celebrations marking Ashoura and stated that "the possible and realistic" 9-9-6 cabinet lineup which "preserves the rights of all sides" is being obstructed by partisans of March 14 coalition who have strong ties with Saudi Arabia. He claimed that the March 14 coalition is acting under Riyadh's orders which have asked it to "form a government excluding the March 8 coalition and Hezbollah". According to him, the March 14 coalition members have been told that "negotiations (in Syria) could result in eliminating Hezbollah, so wait … don't form a government in which Hezbollah is represented."
Saad Hariri has reacted to Nasrallah's claims stating that they "are pipe dreams and have nothing to do with facts and truth, but are only illusionary and made-up ideas aimed at concealing the main reason obstructing the formation of the government". He accused him of blackmailing the population and urged him to stop living it "a circle of illusions and unfounded information".
In a message directed to the supporters of the rebels in Syria, Nasrallah stated that "if there is someone in a certain place in Lebanon, the region or the world waiting to win in Syria in order to allow the formation of a Cabinet in Lebanon, I tell him: You will not win in Syria".